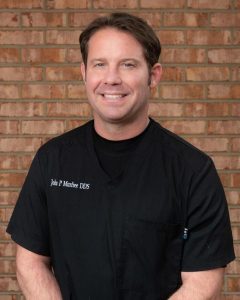 Dr. John Murfree was born and raised in Murfreesboro, TN. While participating in mission work, he realized his love for medicine and found a special interest in the dental profession. He graduated from the University of Tennessee with a Bachelor of Science in biochemistry and molecular biology and earned his Doctor of Dental Surgery at the University of Tennessee College of Dentistry in 2007.
Dr. Murfree has also earned his Fellowship, Master's and Diplomate degrees in advanced-level implant training and grafting from the International Dental Implant Association. These distinctions are the result of hundreds of hours of expert training and leadership through Implant Seminars Inc., under the direction of the world-renowned and respected leader in the implant industry, Dr. Arun Garg.
In addition to his dental implant training, Dr. Murfree is certified in Invisalign® and oral conscious sedation. He has also earned his Associate Fellowship in dental lasers from the World Clinical Laser Institute and has received advanced training and education in cosmetic dentistry, sleep medicine, preventive dentistry, endodontics (root canals), oral surgery, laser dentistry, orthodontics and prosthodontics.
Dr. Murfree is a member of the American Dental Association®, the Tennessee Dental Association, the American Academy of Cosmetic Dentistry, the International Dental Implant Association, DOCS Oral Conscious Sedation Society and the Academy of General Dentistry. He strives to provide exceptional dental care for his patients in a caring and patient-focused atmosphere. Through extensive training and continuing education, Dr. Murfree works to find new ways to care for his patients by providing the most current treatment with minimal discomfort. He enjoys creating beautiful smiles and enhanced self-esteem for patients of all ages.
Outside the walls of our office, Dr. Murfree enjoys hiking, camping, hunting, working out and traveling. He also loves caring for the less fortunate and has had the privilege to provide mission work in Haiti, The Dominican Republic, Uganda, Mexico and in his local community.
| Day | Hours |
| --- | --- |
| Monday | 9:00 a.m. - 5:00 p.m. |
| Tuesday | 9:00 a.m. - 6:00 p.m. |
| Wednesday | Closed |
| Thursday | 9:00 a.m. - 5:00 p.m. |
| Friday | Closed |
| Saturday | Closed |
| Sunday | Closed |